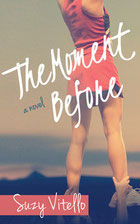 Suzy Vitello tagged me in a writing process blog tour. I love Suzy's debut novel. It's technically classified as young adult, but I was totally engaged as an older adult. 
So, first of all, you need to read Suzy's post. I'm betting you will be enthralled with her writing. 
 You're back from Suzy's blog already? (OK, which new YA novel did she feature? Oh, OK, you did read her blog. Good!) Now, having been tagged myself, I'm here to answer the following questions:

What am I working on?
Having just launched "The Gods of Second Chances" I have been busy with readings and interviews. But I am working on my next novel. Don't have a solid title yest, but this time the protagonist is a woman learning to live on a ranch in eastern Oregon. It's the Depression and her aunts have arranged for her marriage to a rancher. Though she's been enamored of "life in the West," she will encounter unexpected challenges of the land and heart. I promise unexpected twists along the way.

How does my work differ from others of its genre?
It's difficult to say what "genre" my writing fits into. I'll go with the term publisher Laua Stanfill uses at Forest Avenue Press. I write "quiet novels," those with plenty of page-turning writing, but where the world acts more on the protagonist than the protagonist changes the world. So, strong characters, plenty of plot twists, and an interior, emotional journey that is even more important than the external plot. 
Why Do I Write What I Do?
I've always loved books with compelling characters caught up in circumstances that were beyond their control. I love books whose characters are vulnerable, human and yet likable. I think perfection is the antithesis of a compelling character. When I re-read a scene that I've written and read many times, and still find myself laughing or becoming a bit choked up, then I know I've done a good job. 
How does my writing process work?
I start with a character who needs to confront an issue within themselves, even though they'd rather not. Location and landscape are a big part of my writing. Landscape can add so much texture to a story when it's done well. It's one of the reasons I love writing stories that take place in the West. It's interesting to have a character wind up in an unfamiliar location, again forcing him or her to confront something in themselves they'd rather not. 
I never outline what is going to happen in a story. Sometimes a character or action takes me in a direction I had not anticipated. I do ask myself, "What ten things must happen in this novel." 
A technique I learned from Peter Maas many years ago was to ask what would happen if my characters did the opposite of what I had originally intended. For example, if my male and female protagonists are about to fall in love, what would happen if they didn't? What would happen if one of them did irreparable harm to the other? 
Next up on TAG! YOU'RE IT: 
Here are a couple of terrific new reads you all need to know about. They are both "rock" novels from talented writers, each of whom has played in bands.
Each features a protagonist who is triying his hand once again in the music business, even though it nearly destryed him once before. That being said, the journeys are very different and you will find something new and different in each!
Rob Yardumian's "The Sound of Songs Across the Water" takes place in 1995 in the hills above LA. Riley has come there to find his old friend Will, now a successful producer of records. This story is as much about rivalry and coming to terms with past deeds as it is about music. And remember what I said earlier about landscape? Yardumian does a stellar job in using the hills and canyons above LA as a land of temptation and heartbreak.
In a similar vein, Art Edwars' "Badge" is the soulful examination of a man who once tasted success in the rock music business. But here, the protagonist steps in the way of his own happiness. Badge is torn between a "normal" life with his son and the lure of the rock tour and a certain, young and sexy new rock star. Taking place five years later than Yardumian's novel, Badge hits at that moment in music history when everything is going to digital. How can an aging rocker possibly cope?